The Heroes 2021 for DepEd NCR Teaches is a two (2) Program approach using Thames' experience and approach in delivering 100% online learning for the past two (2) years. This is a DepEd NCR endorsed project.
Heroes 2021 is a partnership between Thames International (Philippines), EduRescue School for Teachers (Philippines) and AKADASIA (Singapore) to provide a multifaceted approach to training our DepEd NCR Teachers for flexible learning.
These programs are aimed at helping ensure teachers are able to successfully implement flexible learning among its schools.
Phase 1 : Heroes2021.org (Stage 1 of 2) - Online learning 101 - Base Training using Self-paced MOOCs (EduRescue) + Webinars (Thames)
Phase 2 : Heroes2021.org (Stage 2 of 2) - Creating your First Online Course uses a Blended Learning approach in Teacher Training (AKADASIA)
These are certificate courses where teachers will receive a Philippine Certificate (Stage 1) and a Singapore Certificate (Stage 2).
For inquiries about this project, please email [email protected]
Announcement (posted September 4, 2020)
This course is now closed for enrollment. If you are interested to enroll in this course, we have opened the Flexible Learning Toolkit (Stage 1 of 2) BATCH 2. Scroll down at the bottom of this page to see the enrollment instructions.
For students who are currently enrolled in this course, you can still access the course content via your course dashboard.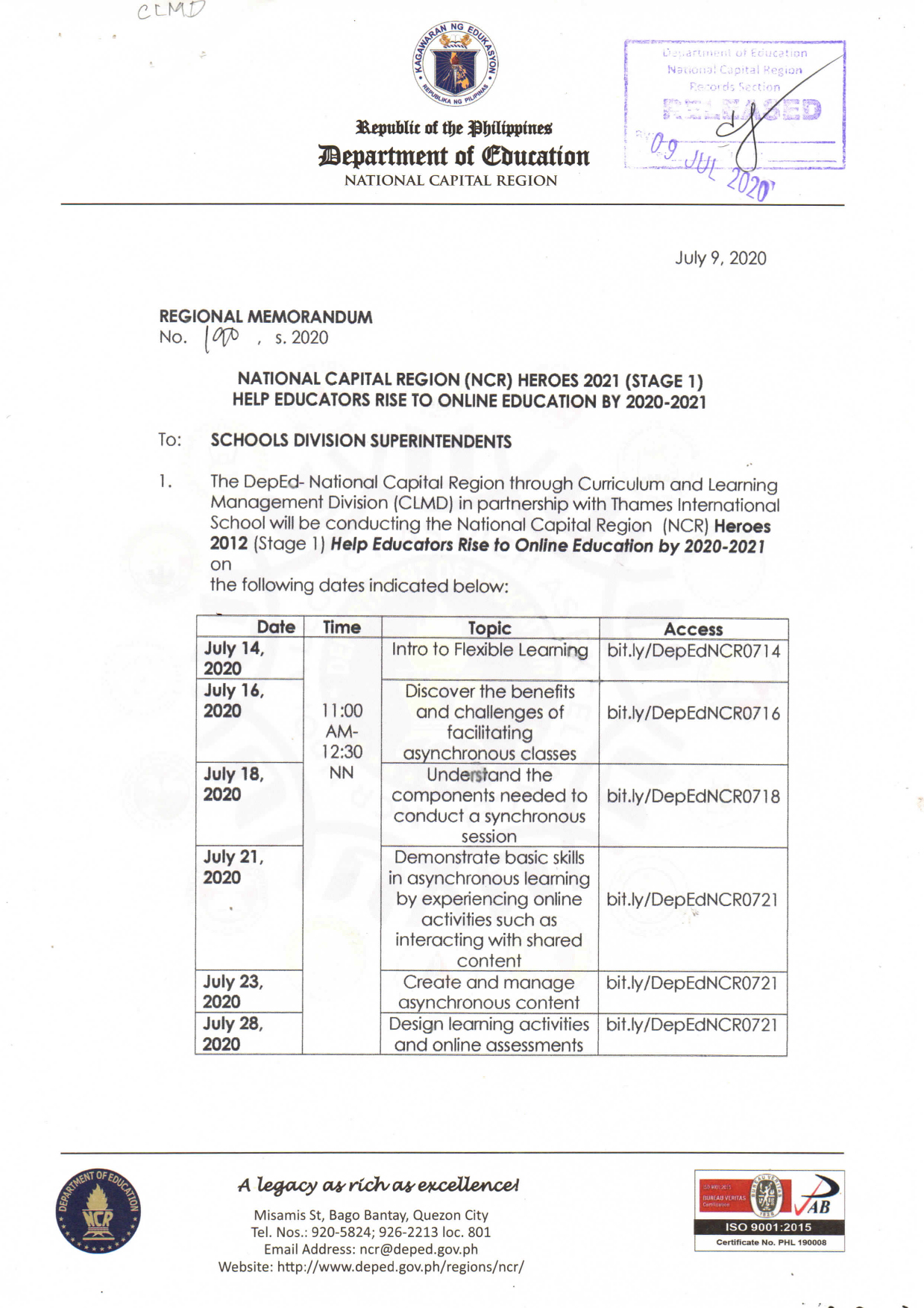 Regional Memorandum from Department of Education (NCR)
To see the rest of the memorandum, please click the button below.
Do you want to enroll in this course?
Click the button below to enroll in
Flexible Learning Toolkit (Stage 1 of 2) BATCH 2