Welcome to the Pasig City Teachers Training - Heroes 2021 Flexible Learning Tool Kit 101
This Pasig City endorsed project was borne out of the introduction of the Office of the Vice President Leni Robredo between the Pasig LGU and Thames International given both parties' objective to rapidly upskill and retool our education frontliners for online learning. This is is a two (2) Program approach using Thames International's experience and approach in delivering 100% online learning for the past two (2) years.
Heroes 2021 is a partnership between Thames International (Philippines), EduRescue.org (Philippines) and AKADASIA (Singapore) to provide a multifaceted approach to training our DepEd NCR Teachers for flexible learning.
These programs are aimed at helping ensure teachers are able to successfully implement flexible learning among its schools.
Phase 1 : Heroes2021.org (Stage 1 of 2) - Online learning 101 - Base Training using Self-paced MOOCs (EduRescue) + Webinars (Thames)
Phase 2 : Heroes2021.org (Stage 2 of 2) - Creating your First Online Course uses a Blended Learning approach in Teacher Training (AKADASIA + Thames)
These are certificate courses where teachers will receive a Philippine Certificate (Stage 1) and a Singapore Certificate (Stage 2).
For inquiries about this project, please email [email protected]
Watch the Pasig City launch of the DepEd NCR HEROES2021 Online Teacher training to both Private and public schools. This is a certificate course run by Thames International, EduRescue and Akadasia Singapore and sponsored by Unionbank, CitySavings,UBPXcellarator, and Philstar.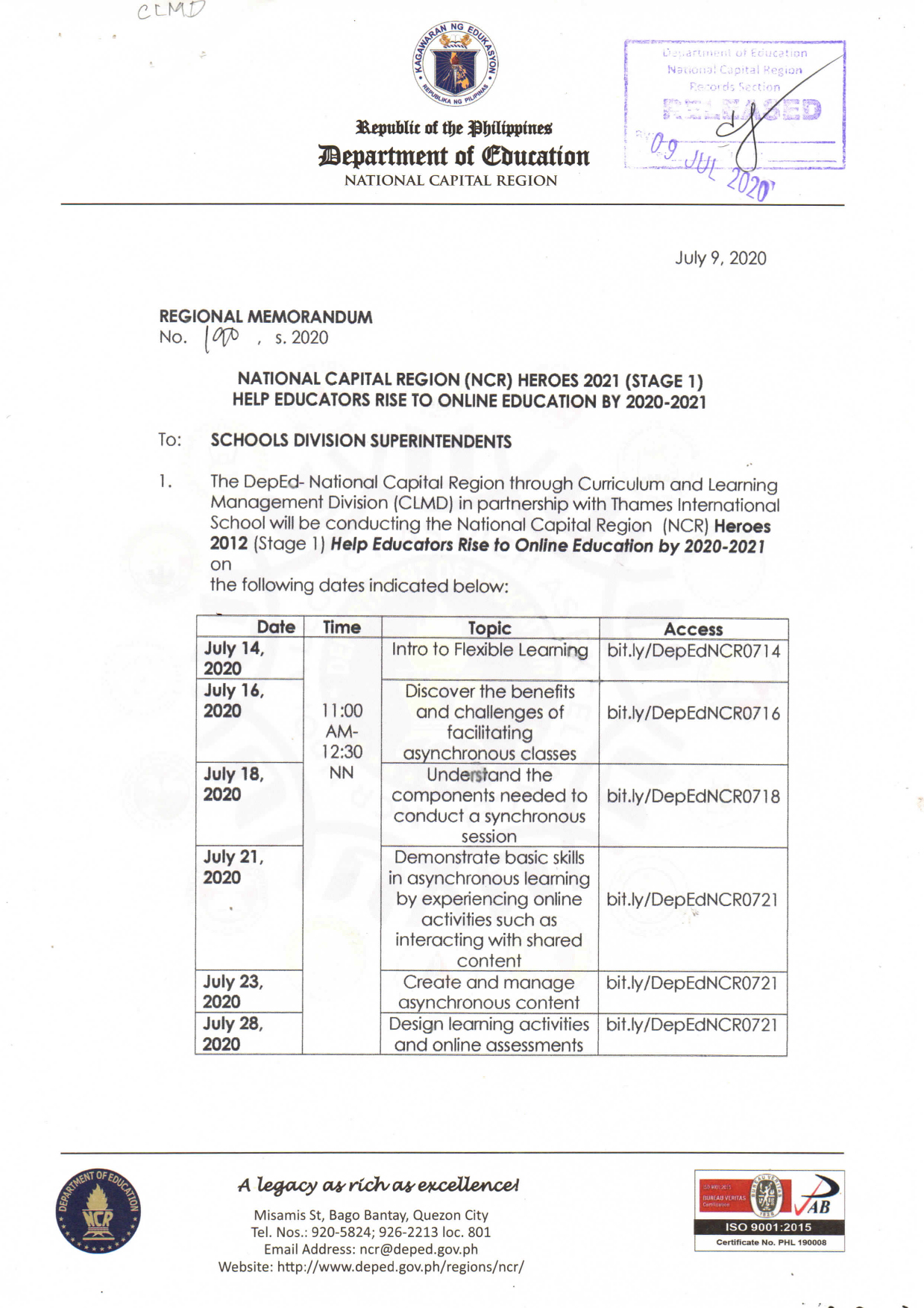 Regional Memorandum from Department of Education (NCR)
To see the rest of the memorandum, please click the button below.